Brochure Make-Up Wizard -
a macrocommand for Microsoft Word
This macrocommand for Microsoft Word (any versions) will help you to produce and print a document as an A5 book. You can easily edit the text after producing, insert images and tables to the document, and the text in the document will adequately move in real WYSIWYG manner. There are a lot of different parameters may be specified in this macro. Working with this program is very easy because you can find all needly information in dialog-boxes.
Download the program:
Makeup.zip - WinZip file, 90 kb.
Document prepared by macro Brochure Make-Up Wizard: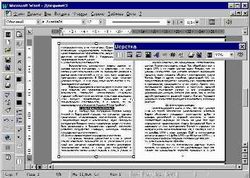 The author of this program - Orlov Anton Alexandrovich
The translating of dialog-boxes of this program was made by philologists Anatoly S.Troshin and Felix Liberman.
E-Mail: antorlov@mail.ru.
The Russian pages of this site
A big site about making brochures
Good Luck!